Berlin, I'm in you!
​
My brand new trio LOCKDOWN with Michael Moore on reeds and Greg Cohen on bass performed as part of an art & sound installation by Chris Hinze on March 16th at Kesselhaus, Kulturbrauerei, Berlin, to a sold out audience. The music got recorded, although this was not a concert: "Lockdown Live!"
"I don't create content.
I'm not a content creator.
Don't let a robot choose your music."
Happy New Yeah!
My album LIVE DURING LOCKDOWN on jazzwerkstatt Berlin feat. Michael Moore & Greg Cohen was just awarded "BEST LIVE ALBUM of 2022" by The NYC Jazz Record.
2023
​
November
- Wed1st Donau115, Berlin with Vinicius Cajado, Andrea Parkins, Keisuke Matsuno, one set, 20h
​
- Mon13th "Kuehlspot, Berlin, with Callisto: Peter van Huffel, Lina Allemano, Antonis Anissegos, jh
​
- Thu16th "Jazz im Güterschuppen", Westerstede with Callisto: Peter van Huffel, Lina Allemano, Antonis Anissegos, jh
​
-Fri17th Blackbox/Cuba, Münster with Callisto: Peter van Huffel, Lina Allemano, Antonis Anissegos, jh
​
-Sat25th 20h REH - Raumerweiterungshalle, Berlin, for JazzAmHelmholtzplatz "JAZZTAGE" with
TRUMDRUM Nikolaus Neuser - tr/jh - dr
(also duo set by
Andreas Willers - g/Rudi Neuwirth -voc)
​
-Sun26th Bflat, Berlin with Anastasios Savvopoulos Dan Peter Sundland, Peter van Huffel, jh 21h
​
-Wed29th Brotfabrik, Caligariplatz 1, Berlin for JazzAmHelmholtzplatz with Holger Scheidt Trio
​
Dezember
​
-Thu14th 20:30h Sascha Henkel's MOCK GRANDEUR w. Leonhard Huhn, Benjamin Weidekamp, jh at Jazzclub Konstanz
​
-Fr22nd 20h Cavana Lee Quintet at King Georg, Cologne feat. Çavana Lee vox, Regis Molina - as, Johannes Schleiermacher - ts, fl, mod synth, Konrad Hertzfeldt - b, jh - dr
2024
​
January
-Mon8th 20:30h Alexander von Schlippenbach, Matthias Bauer, jh - live concert recording at Morphine Raum, Berlin
​
-Sun14th 15:30h CD Release Concert for TroubleInTheEastRecords with Unzeit Quartett w Celine Voccia, Frank Paul Schubert, Matthias Bauer, jh at Industriesalon Schöneweide for Jazzkeller 69 e.V.
-Wed17th 20h Zero Trio feat. Andrea Massaria​,​​​Meinrad Kneer​, jh at JAZZ AL KNULP, Trieste, IT
and
-Thu18th 20h Zero Trio feat. Andrea Massaria​,
​​​Meinrad Kneer​, jh at interpenetration, Graz, AUSTRIA
Record release concerts for Setola Di Maiale

Radio feature on WFMU 02/2019:
I was the guest on Dave Sewelson's new radio show "Music For a Free World" on WFMU's "Give the Drummer", we played music from eight CDs, talked, and played two mini sets of improvised music together, you can stream the show here, I joined at minute 39: http://wfmu.org/playlists/FI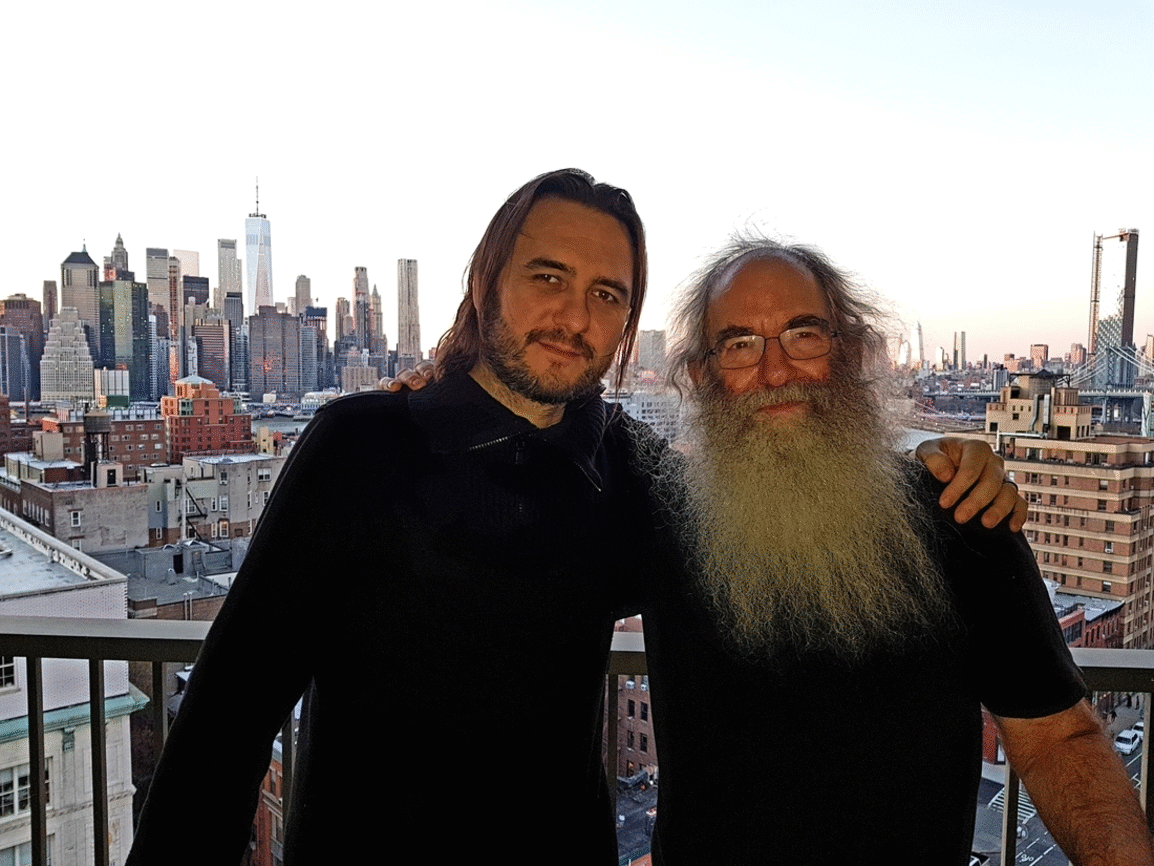 Radio feature on WFMU 03/2018:
​
David Weinstein's show 'GiveTheDrummer' aired on March14th on WFMU and featured a 20-minute excerpt of a live recording he captured from the trio of Jim Denley, who was visiting from Australia, Chris Penalosa and myself from our concert at The Outpost in Brooklyn as part of David Watson's series, which you can now stream through your iTunes or other media player via
https://wfmu.org/playlists/shows/77817 - just click on:
"Listen to this show:" on the bottom left and skip to minute 50 - the sound quality is awesome and so was our first-meeting-chemistry!
11/2023
Mark Daterman Trio — Ae

rial Imprints
Mark Daterman: electric guitar
Jair-Rohm Parker Wells: electric upright bass
Joe Hertenstein: drums

Free jazz guitar trio music improvised straight off the runway live onto 24 track tape at N.Y. HED Studio on New York's Lower East Side, April 28, 2022.

Matt Verta-Ray:

engineer
​
Released on mussomusic
and Bandcamp
November 11th 2023

10/2023
Christopher Kunz & Isabel Rößler
FLUT + Live a

t Au Topsi Pohl
​
Christopher Kunz - ss/ts
Isabel Rößler - db
+ guests:
Florian Müller - g
Joe Hertenstein - dr
also
- Dan Peter Sundland - eb/Tony Buck - dr
- Guido Kohn - amp cl/Samuel Hall - dr
- Rieko Okuda - p/Dag Magnus Narvesen - dr
- Anna Kaluza - as/Marcello Silvio Basato - dr
​
Released on Bandcamp, October 06, 2023

Recorded by Adam Asnan at Au Topsi Pohl Berlin, July 26-30th.
Mixed by Adam Asnan
Mastering by Giuseppe Ielasi
Cover Artwork "Chinagirl" by Christoph Kühl
Collage/Mischtechnik auf Papier, 2020
All tracks are free improvised by FLUT +
09/2023
Heberer/ Fonda/

Hertenstein
REMEDY II
"Recommended New Release" - The NYC Jazz Record 11/2023
​
Thomas Heberer – trumpet
Joe Fonda – bass
Joe Hertenstein – drums, percussion
​
1. One for Mark 6:20
2. The Variant 5:11
3. Seamless 10:58
4. My Song 5:04
5. Nothing Like Something 7:09
6. I've Been Singing 10:14
7. The Nth X 5:41
8. Home 4:50
Recorded by Tom Tedesco, April 24 & 25, 2022, Tedesco Studios, Paramus, NJ Edited by Thomas Heberer, May 2022, NYC, NY Mixed & mastered by Jon Rosenberg, June 2022, Brooklyn, NY
04/2023
Massaria/ Kneer/ Hertenstein
The Absence Of Ze

ro
Setola Di Maiale, SM4560
​
Andrea Massaria - guitar & effects
Meinrad Kneer - double bass
Joe Hertenstein - drums & percussion
​
1. Zero One (11:40)
2. Zero Two (8:38)
3. Zero Three (10:13)
4. Zero Four (4:51)
5. Zero Five (8:59)
TOTAL TIME: 44:55
Compositions by Massaria/ Kneer/ Hertenstein
©SIAE
recorded by Christian Betz, Berlinaudio 11/2021​
mixed by Alexis Baskind
08/2022
Dalius Naujo
NOJO AIRLINES New York, New York
feat. 48 musicians

NOJO AIRLINES is a sonic trip conceived and produced by Dalius Naujo 2021/2022
Mixed at Figure 8 Studios, Brooklyn, by Michael Coleman
Mastered & additional mixing by Julius Zubavičius
06/2022
OURIDA - Wings
​
OURIDA - voc, piano, ukulele
Jonathan Levy - bass
jh - drums
plus guests

Recorded by Eli Crews at Figure8Studios, Brooklyn, NY
"Co-produced by Eli Crews (tUnE-yArDs, Marc Ribot…), 'Wings' is an indie pop / art pop / alternative album of sensual songs full of imagery about multi-cultural life and women's freedom of expression, mixing folk rock melodies and jazz groove with rhythm and sounds from around the world."
06/2022
SPACEPILOT - Hycean Worlds
live at Red Horn District
Elias Meister - guitar, electronics
Leo Genovese - synth, rhodes, hammond
Joe Hertenstein - drums
​
Orbit 577 Records
Recorded live at Red Horn District
Mixed & Mastered by Jeremy Loucas, NYC
Cover art by W—E studio, Piera Wolf & Claudine Eriksson
​
06/2022
STEPHEN GAUCI / JOE HERTENSTEIN / ALEXANDER VON SCHLIPPENBACH / JAN RODER - Soundlift Berlin-New York (GauciMusic 04530; USA)
​
Stephen Gauci - tenor sax
Alexander von Schlippenbach - piano
Jan Roder - bass
jh - drums

Recorded by Joe Hertenstein
at Keller4 Studios, Berlin, Oct22 2021
Mixed & Mastered by Michael Coleman
Produced by Stephen Gauci
Album design by Stephen Gauci
Cover photos by jh
Special Thanks
to Ken Burke
03/2022
"LIVE DURING LOCKDOWN"
feat. Michael Moore & Greg Cohen
"March 16th 2021 Kesselhaus, Berlin"

Michael Moore- AltoSaxophone&Clarinet
Greg Cohen - Bass
Joe Hertenstein - Drums

Recorded and mixed by Friedrich Stoermer
Mastered by Jeremy Loucas
Album design by Herbert Weissrock
Cover photo by jh
Inside photo by Herbert Weisrock
​
jazzwerkstatt Berlin
supported by the
Cultural Senat of Berlin
​
"BEST LIVE ALBUM of 2022"
by The NYC Jazz Record
​
​
​
12/2021
Lior Milliger Free Improv Trio
feat. Hilliard Greene & Joe Hertenstein
​
"Your Comfort Zone Will Kill You"

Lior Milliger - Tenor Saxophone
Hilliard Greene - Bass
Joe Hertenstein - Drums

Recorded and mixed by Jason LaFarge on September 12th 2019 at Seizure's Palace Studios, Brooklyn, NY
Mastered by Shay Hazan
Album design by Mark Smith
Cover photo by Lior Milliger
​
Orbit577 is part of 577 Records
​
​
​
04/2021
HebererFondaHertenstein
REMEDY

Thomas Heberer - trp, comp
Joe Fonda - bass, flute, comp
jh - drums, comp

Recorded August 26, 2020, by Tom Tedesco, Tedesco Studios, Paramus, NJ
Mixed & mastered January 2021 by Jon Rosenberg, Brooklyn, NY
​
Fundacja Słuchaj
​
​
​
03/2021
Gate2Venus
TIME IS A MELODY

Cecilie Beck - voice, piano, comp
Gabriel Gordon - voice, guitar, bass
jh - percussion/drums

Recorded in Denmark and Germany 2020/2021
Produced, mixed and mastered by Gabriel Gordon
​
​
​
​
​
03/2021
Sana Nagano
SMASHING HUMANS

Sana Nagano - Violin/fx
Peter Apfelbaum - Tenor saxophone/megaphone
Keisuke Matsuno - Electric guitar
Ken Filiano - Acoustic bass/fx
jh - Drums

Recorded July 1st and 3rd, 2019 and
Mixed by Martin Bisi at
BC Studios, Brooklyn, NY,
Mastered by Fred Kevorkian, NY
​
​
​
​
​
​
03/2021
Carolin Pook
WELTRAUMDANCES

released March 4, 2021

Carolin Pook - violin/composition
Adriana Molello - violin
Tomoko Omura - violin (track 3&4)
Leonor Falcon - viola
Brian Sanders - cello
Christof Knoche - bass clarinet/harmonica
Dorothea Tachler - autoharp
Paul Orbell - electric guitar
Ari Folman-Cohen - bass
jh - drums/percussion/objects

Recorded on 4 Sundays 2020 at 11AM
remotely from home, offline, connected through
stopwatch and imagination, we didn't hear each other, all first takes. Magical.
​
Mixed by Caio Carvalho, NY
​
​
​
​
​
02/2021
Robert Musso & Mark Daterman
DREAM OF THE GRUMBLER

Mark Daterman electric 12 string guitar
Robert Musso acoustic 6-string guitar
jh table percussion
​
Recorded August 2019 at Musso Studios, New York, NY
Engineered, mixed, mastered by Robert Musso
​
​
​
​
12/2020
Joe Stone - PERMABLUES
​
Joe Stone vocals, acoustic guitar
Paul Orbell slide guitar
Craig Akin upright bass
jh drums on single POOR OL' BOY

Recorded July 2010 at Vanity Sound, Brooklyn, NY by Myles Turney
Mixed by Jeremy Loucas at SEAR SOUND, NY
Mastered by Kevin Blackler at BlacklerMastering, Brooklyn
​
OUT 12/2020 on BlueGeezerRecords
​
​
​
If you work for a record label, I have some un-released recordings, which might interest you:
- Duo with Thomas Heberer - H&H at DMG in NYC
Live at DowntownMusicGallery, multi-track, NYC2019
​
- 4tet with Briggan Krauss, Shazhad Ismaily and Michael Vatcher
Studio recording, multi-track, Brooklyn, NYC2019
​
- Joe Hertenstein plays Aaron Bielish's EYEMUSIC
with strings: Mat Maneri, Fred Lonberg-Holm & Michael Formanek
with electronics: Dafna Naphtali & Hans Tammen
Live at ShapeshifterLab, multi-track, Brooklyn, NYC2019
​
- Joe Hertenstein's FUTURE DRONEnyc
feat. Jon Irabagon, Anthony Coleman, Reuben Radding
Live at NubluJazzFestival, NYC2015
​
- Joe Hertenstein's ODEM
feat. Todd Neufeld & Sean Conly - Studio recording, mastered
​
- Joe Hertenstein's As A Matter Of Change
feat. Darius Jones & Pascal Niggenkemper
Live at TheStone, NYC2011
​
...and others
Free Jazz Blog's 2017 Top 10 List
​
Danny Kamins, Damon Smith, Alvin Fielder, and Joe Hertenstein — After Effects (FMR Records, 2017)
​
​
​
​
​
​
"I am a fan of innovative bass players, of baritone sax, and of extended technique: this quartet hits all my sweet spots."
​
"The musicians who made this album know how to get out of the way when music desires to reveal its essence. Unshackled from preconceptions of composition and improvisation, they know the authenticity of the music—and of themselves as musicians—is more important than conforming to any definition of "free" or "jazz." This is music without cliché or artifice. It does not exist to entertain—in the background or as a distraction. It often seems strange and unfamiliar, but when we slow down, it teaches us how to listen and how "to dwell within the truth that is happening in the work," as Heidegger says. This music contemplates; it reflects, it thinks—and it sweeps us into its drift, transporting all of us out of the habitual mundane, beyond ourselves, up into the luminous." - Rick Joines
​
My first mention in the ModernDrummerMagazine, May2018:
Below's link takes you to my first mention in the Modern Drummer Magazine as part of reviews of four Ivo Perelman albums in the
excellent company of drum colleagues Gerald Cleaver,
Bobby Kapp and Jeff Cosgrove:
"Four approaches to free improvisation highlight
individualism on the drums."
"The drummer scrambles like eggs on "Part 9" and adds kineticism to the busy "Part 3" while leading the trudge to the moaning "Part 1"."
George W. Harris, 11/2017